The Preceptory of La Braque (Alphen)
Translation : Andrew Zolnai
No pictures available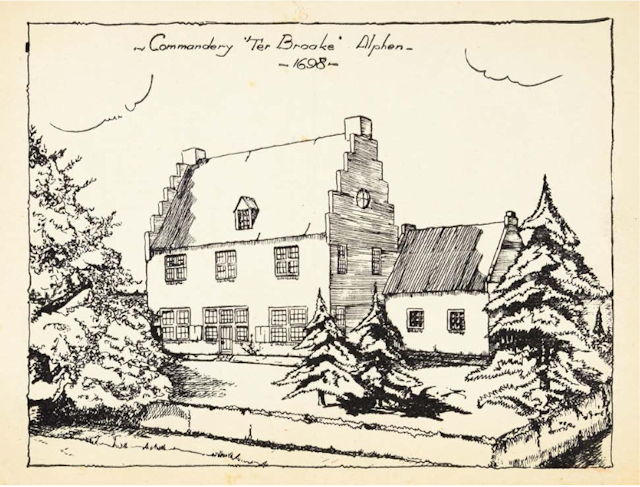 The Netherlands, Province of Noord Brabant, around 20 km south-east of Breda, village of Alphen.
The most ancient known mention of the existence of a Templar house in Alphen is in an act dated back to 1187(1) where a certain Gerard of Duffel gave to the Brothers Of the Templar Order his allod located in Turnhout, in exchange for the Order to pay him a rent of three marks.
As this document is a donation and not the act of the foundation of the preceptory, one may consider that the creation of the preceptory happened some years earlier.
Some people think that the foundation happened around the years 1140-1150 thanks to the generosity of the lords of Breda. It also seems that the monks of the abbey of Tongerloo had an influence in the establishment of Templars in Alphen.
In 1212 and 1214, Duke of Brabant, Henry the first(2) confirms several donations made in favour of the Order including the one made by Alveric of Turnhout of a farm and the one made by the Count William of Megen(3) and his son Thierry of the allod of Rixtel and all its outbuildings.
In 1236, the Templar house of La Braque was the subject of a compromise, of which the precisely the origin is unknown, between Pons of Albon, Master of the Order in France, and Brother John, Abbot of Tongerloo. At that time, the preceptor of La Braque was Brother Hermann.
Other charters concerning the preceptory of La Braque are preserved in National Archives of France in Paris, but do not give us a lot of details about the preceptory. Nevertheless, one of the last charters, dated from 1289 says that the house of La Braque stopped to be strictly speaking the seat of a Templar preceptory because it was transferred to a farm with all its outbuildings.
In 1313, after the devolution of the templar properties to the Hospitaliers of St John, the inventory made by new landlords shows a farm with limited development and in poor state.
At the height of its development, the preceptory of La Braque owned besides lands in Alphen, a mill also in this city, another one in Oosterhout, outbuildings in Rixtel and in Turnhout and collected also several fees and tithes in the area.
Notes :
(1)Preserved in National Archives of France – box S. 5255.
(2)Born around 1165, died in Köln on September 5th 1235, Duke of Brabant from 1183 to 1235, Count of Leuven, Marquis of Anvers and Duke of Lower Lotharingia from 1190 to 1235. He was the son of Godfrey III, Count of Leuven, landgrave of Brabant, Marquis of Anvers and Duke of Lower Lotharingia and Margaret of Limburg.
(3)Megen is nowadays a small town of the Netherlands located north of the province of Noord Brabant, along the River Meuse. The County of Megen in mentioned in chronicles from 1145.
---
Bibliography
Compte rendu des séances de la Commission Royale d'Histoire ou Recueil de ses Bulletins - Tome 70

Commission royale d'Histoire ; Librairie Kiessling, 1901

Les Templiers en Flandre, Hainaut, Brabant, Liège et Luxembourg

Laurent Dailliez ; Impress Sud, 1978