The preceptory of Aslackby
Translation : Andrew Zolnai
No pictures available
Great Britain, England, East Midlands, Lincolnshire, around 45 km south of Lincoln.
This preceptory was founded in the beginning of the reign of Henry II, around 1164. The first donors were Hubert de Rye, Margaret de Percy and John le Mareschall(1).
Hubert de Rye gave to the Order the church and a chapel in Aslackby. These possessions were located along an old roman route going from London to the Gateways of Scotland. The chapel was integrated into the buildings of the preceptory, while the church stayed for the villagers.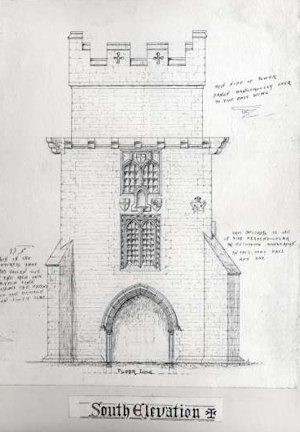 Templars of Aslackby were accused in 1275 of holding estates in Rippingale at the expense of the king(2), and to have refused to help the sherif several times in the villages of Rippingale, Gautby and Dowsby.
After the dissolution of the Order and a transfer into royal hands, the preceptory of Aslackby fell into the hands of the Hospitallers in 1338, but the latter didn't keep it as a preceptory. They just kept there a house with the chapel and aroud 200 acres of estate, which were a farm leased to Henry de la Dale, the secretary of the Earl of Lancaster(3).
At that time, the buildings were in bad condition, and pratically uninhabitable. This property was integrated afterwards in the estate of Temple Bruer.
At the present time, nothing remains of the preceptory. The last remnants, from which the big square tower, were desmolished at the end of the 19th century. Only the church St James, located in the midle of the village, still bears remnants of templar presence there. Some of the stones used to build in the church are probably from the preceptory.
Notes :
(1)Little is known about these three persons. It would nevertheless appear that John Le Mareschall was the son-in-law of Hubert de Rye..
(2) At this time, the King of England was Edward Ist.
(3)Henry of Lancaster, born in 1281, 3rd Earl of Lancaster from 1326 to his death in 1345. He was the second son of Edmund Crouchback, 1st Earl of Lancaster and founder of House of Lancaster.
---
Bibliography
"The Victoria history of the counties of England : A history of the county of Lincoln, Volume 2"


William Page; Editions A. Constable 1906

"In Search of the Knights Templars - A Guide to the Sites in Britain"


Simon Brighton ; Weindenfeld & Nicholson 2006
---
Internet sources