Who's Who in British History
Early Medieval England: 1066 - 1272
(Stackpole Books - 2001)
Auteurs : Christopher Tyerman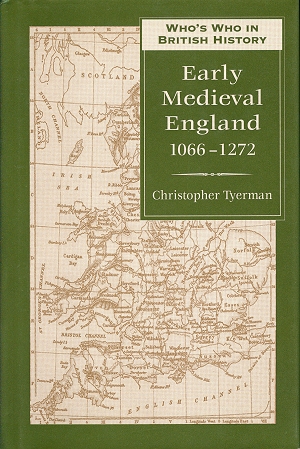 Pages list about this topic :
Book presentation (current page)
Description :
Who's Who in Early Medieval England spans the period of the Norman Conquest, the murder of Thomas Becket, Magna Carta, and Simon de Montfort. Though remote in time, its influence is still evident in the institutions of today.
What in 1066 were disparate elements of Anglo-Saxon, Scandinavian, and French, had by 1272 coalesced into a realm distinctively and self-consciously English.
The process was symbolized by the adoption by Henry III, the builder of Westminster Abbey, of Edward the Confessor as his patron saint and the accession in 1272 of Henry's son, Edward I, the first King of England with an English name since the Conquest.
Like each of the volumes in the Who's Who in British History series, Who's Who in Early Medieval England presents history in a biographical form which complements the conventional approach.
The authors convey more than the bare facts of their subject's life: they place them in the context of their age and evoke what was distinctive and interesting in their personality and achievement.
The range of personalities included is extensive, embracing royalty, politicians, poets, playwrights, inventors, and artists. Using a broadly chronological rather than alphabetical sequence for the entries makes it easier to browse from one contemporary to another, forming a picture of the age. The index, with its cross-references, makes it quick and easy to trace further information.
The author :
Christopher Tyerman has been a Research Fel­low at the University of Oxford and is now Head of History at Harrow School and Lecturer in Medieval History at Hertford College, Oxford. He is a Fellow of the Royal Historical Society and won the Society's Alexander Prize Medal in 1981. He has previously published a book, England and the Crusades 1095-1588, as well as contributed reviews, articles, and essays to various publications.
If you want to buy this book via our webshop partner Amazon.fr, follow this link
To go back to the books list