The preceptory of Bierset
Translation : Andrew Zolnai
No pictures available
Belgique, Province of Liège, around 12 km west of Liège, municipality of Bierset.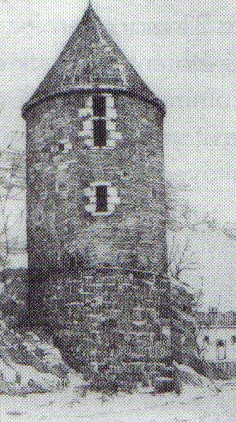 It's around 1260 that Templars became owners of lands in Bierset. According to a document preserved in The State Archives in Liège and dated from 15th century, it appeared that Templars received in Bierset a part of the co-lordship that was given by Sir Gilles, lord of a part of the lordship.
This Sir Gilles was not unknown in Liege area. Indeed, his name was mentioned in 1261 in an act regarding the church St-Lambert in Liege.
It can said that in 1265 a Templar houses was established. On November 28th 1265, Gerard de Villers bought to Sir Baudart, Canon of St-Lambert, the half of the banal mill of Bierset, located to Hollogne-aux-Pierres, and two adjacent allodial meadows.
The copy of a third act, much more complete is located in the manuscript of Van der Berg in the library of the University in Liege. In this act, it is specified that on October 17th 1289, Knight Baldwin of Bierset and Mary, widow of William, brother of Baldwin, signed a convention with brother Renier of Villers, master of the Templar houses in Hesbaye, diocese of Liege, on the rights of the church of Bierset.
It's the last act known and which is interesting because of the nomination of a rector who will have better income. This act shows us that it was the Templars themselves who nominated the priest of the village. This case was not rare in the Order archives and showed the trouble of people to have regular mass in face of the decadent manners of the Church in this end of the 13th century, despite of directives of Inquisition.
The house of Bierset owned 47 "boniers"(1) of plowland and more of one "bonier" of meadows. It also levied taxes on a mill and on a brewery, and all the tithe in the village.
Unfortunately, it is impossible to show you a photo of the preceptory because it was demolished some years ago. At that moment, it belonged to the municipality of Grace-Hollogne and some remnants were sent to the Curtius Museum in Liege.
Instead of the preceptory, there is now a roundabout.
Notes :
(1)
Un bonnier ou bonier est une ancienne unité de mesure de surface, utilisée dans les Flandres et les régions avoisinantes, qui valait en fonction des régions entre 1 et 1,4 hectare.
---
Bibliography
"Les Templiers en Flandre-Hainaut-Brabant-Liège et Luxembourg"


Laurent Dailliez ; Alpes-Méditerranée Editions - Impres'Sud 1978