The preceptory of Bretteville
France, Department of Calvados, around 20 km north from Falaise and around 22 km South of Caen, municipality of Bretteville-le-Rabet..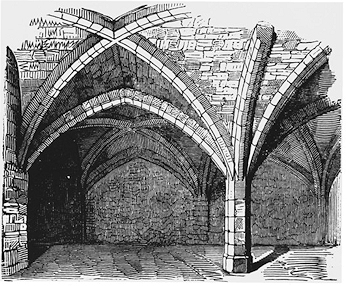 At the end of the 12th century, a local lord, a certain Rabel, made an important donation to the Order which built at that place a large preceptory located on the road of pilgrimage to Compostelle.
The preceptory will also receive other donations from important lords, as Richard of Renneville(1) and Jean, Count of Ponthieu(2).
At its peak, the preceptory owned a house in Caen, the Lordship of Renemesnil(3) and the fief of Moult(4). The neighbouring preceptory of Voismer also directly depended on that of Bretteville. Its domain stretched out on more than 100 Norman acres(5).
The preceptory was located west of the village, on the other side of a small valley. Probably typical of other farm outbuildings located in the area of Caen, it must have been formed of a square yard surrounded by outbuildings.
Currently, a castle was build during the 19th century at the place occupied by the preceptory. There are no remnants of the buildings of the preceptory except for some vestiges enclosed in more recent buildings, as a large vaulted hall with two ribbed vaults integrated in the main building of the castle.
Notes :
(1)Richard of Renneville or Richard of Harcourt, second son of Robert I of Harcourt. He was also behind the creation of the preceptories of Bretteville and Renneville.
(2)John 1st of Ponthieu, Count of Ponthieu from 1147 to 1191. He participated the 3rd Crusade with Philip II August. He died during the siege of Acre in 1191.
(3)Small hamlet located 3km north-east from Bretteville.
(4)Village located around 15 km north-east from Bretteville.
(5)The acre is an old surface measurement unit. One acre was worth about 2 jugers (working day with an ox), that is to say between 40 and 50 ares.
---
Bibliography
"Sur les Pas des Templiers en Bretagne, Normandie et Pays de Loire"


M. Dumontier, N. Villeroux, G. Bernage T. Barreau; Editions Henry Vernier 1986
---
Web sources