The preceptory of Brulhes (Temple sur Lot)
Contributor : Bernard Boubel(†)
Translation : Andrew Zolnai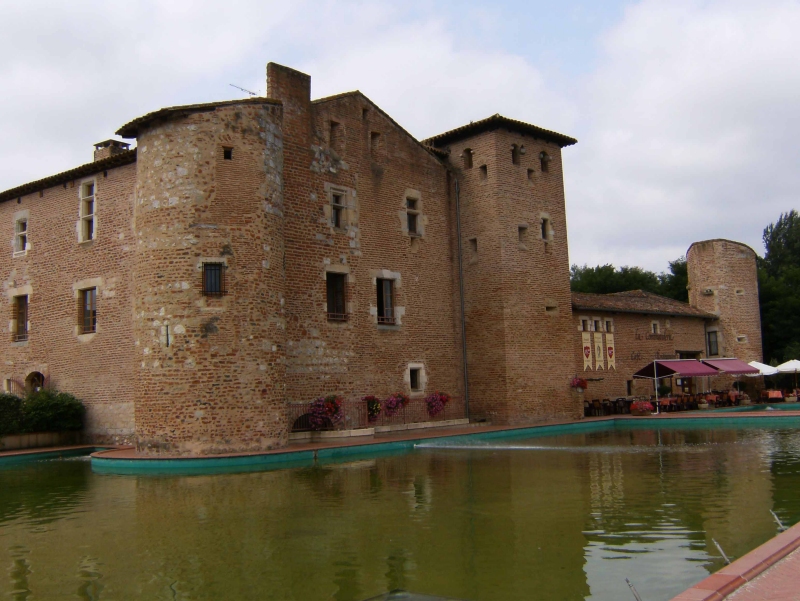 Diaporama at the bottom of the page
France, department of Lot-et-Garonne, around 17 km west of Villeneuve-sur-Lot, 30 km north of Agen.
The foundation of the preceptory seems to date from the end of the 12th century, in connection with a donation of Rainfroid I of Montpezat.
The historian Antoine du Bourg cites Jourdain de la Contraria as first preceptor in 1161. On May 5th 1288, a donation from Guillaume Amanieu de Castelmoron, received as Templar, increased lay goods with tolls on the roads and on the Lot River (half with the priory of Fongrave) and the tithes of Saint-Gervais and Saint-Avit.
Guillaume Amanieu was received at his request as "donat"(1) of the Order. The Templars promised him that after his death he would be buried in their church and "that five masses a year would be said for the rest of his soul in honor of the Lord's 5 wounds".
The first building of the preceptory was rectangular, of ashlar, divided by a longitudinal supporting wall, according to an archaeological study by J. Pons and M. Daynes: "elements in elevation remain in the east wall, in the rooms in the south part of the house and the north wall of the church ".
The preceptory was destroyed by a fire in the last decades of the Hundred Years War (traces on the east wall). A new building was built in brick between 1485 and 1510, according to dates refined by ceramics and dendrochronology: the sponsors were Bertrand de Gros (1475-1496) and Tannequin de Bussel (1498-1506).
A first set of buildings comprises a house with a corner tower to the east. This house is then doubled in depth on the west side and equipped with a staircase tower with screws (modulus of brick less thick); The windows with prismatic mouldings or double moulding, the doors with rounded jambs and the chimneys back to the supporting wall date from the turn of the 15th and 16th centuries.
The main constuction of the house probably preceded the attachment of Brulhe to La Cavalerie in 1508. The Temple of Brulhes was restored in 1650. An enclosure fortified by towers and fitted with gun slits closes the courtyard and protects the outbuildings (16th, 17th centuries).
The area called "du Fort" completed the preceptory to the south. The complex has been recently restored to create a sport reception and accommodation center.
Preceptors :
Notes :
(1)It is very difficult to summarize in a few simple words this concept of "brother donat" in the Templar Order. I refer you to an article entitled "Oblature, classe chevaleresque et servage dans les maisons méridionales du temple au XIIe siècle" written by Elisabeth Magnou in: "Annales du Midi : revue archéologique, historique et philologique de la France méridionale - Année 1961 - Volume 73 - Numéro 56 - pp. 377-397 (on the french website Persée).
---
Bibliography
"Guide de la France Templière"


Alain Lameyre; Editions Tchou 1975

"Les Hauts lieux Templiers"


Daniel Gaillard; Editions Lacour-Rediviva 2005

"Acta Templarorium"


Jean-Luc Alias; Editions Les 3 Spirales 2002