The preceptory of Châteaubernard
Translation : Andrew Zolnai
No pictures available
France, department of Charente, around 3 km south of Cognac.
Built just a few kilometers from Cognac, the chapel is the only remnant of the preceptory of Châteaubernard.
Although there is no document showing the date of construction of this chapel, the stylistic and architectural elements suggest that this construction goes back to the years 1150 - 1160.
Several documents from the Templar period are kept in the departmental archives. The oldest dates from 1220 and concerns an agreement between the Templars of Chateaubernard and the Benedictine monks of the Abbey of Fontdouce(1) and on the other hand individuals about the reconstruction of mills located near Cognac.
An act dated 1227 mentions the concession of a house located at Cognac made by the commander and the brothers of Châteaubernard to a private individual. This act also mentions that the preceptory had a workforce of 5 Templars, including only one knight. This same house of Cognac is still the subject of another concession in 1242, made this time by Guillaume de Sonnac, Preceptor of Aquitaine and future Master of the Order of the Temple.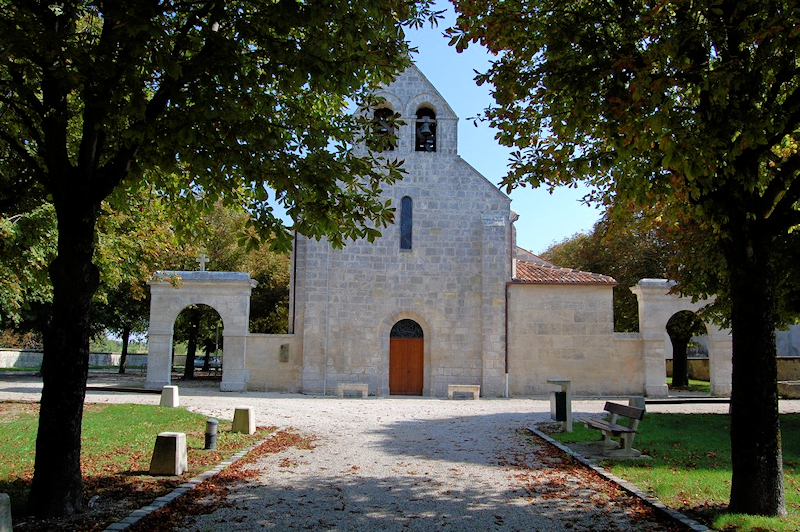 In 1295, an act of purchase of a mill to a private person by the Templars mentions that Brother Hugues de Narzac was preceptor of Châteaubernard and Angles.
Like the other preceptories of the region, Châteaubernard suffered from the Hundred Years War, the great plague and the economic crisis that ensued.At the beginning of the 15th century, the preceptory ceased to be an autonomous domain and became a member of Beauvais-sur-Matha.In 1655, the minutes of a visit by the prior of the Order mention the state of decay and ruin of the estate. Only the chapel seemed to escape this fate and was relatively well maintained.
The various minutes of the visits which took place during the 18th century have always mentioned the good condition of this chapel.At the time of the Revolution and as for the other properties of the Order of Malta, the estate of Châteaubernard was sold as a national property. In 1844, the chapel was returned to worship, but became a parish church only in 1874.
Notes :
(1)Former Benedictine abbey founded in 1111 by William of Conchamp, lord of Taillebourg. This abbey is located in the commune of Saint-Bris-des-Bois, between Saintes and Cognac.
---
Bibliography
"Les Commanderies des Templiers et des Hospitaliers de Saint-Jean de Jérusalem en Saintonge et en Aunis"


Anne-Marie Legras; Editions du Centre National de Recherche Scientifique 1983

"Les Templiers dans le Sud-Ouest"


Jacques Dubourg; Editions Sud Ouest 2001