The preceptory of Chierzac
Translation : Andrew Zolnai
No pictures available
France, department of Charente-Maritime, around 29km North-east of Bordeaux, around 58 km south-west of Angoulème, commune of Bédenac.
The date of establishment of the Templars at Chierzac is unknown, but the existence of the preceptory is mentioned in some documents dated from 1304, that is to say the end of the Templar period, just as for Civrac. One of these documents is the settlement of a conflict between Hugues Raynaud, preceptor of Chierzac and Bertrand de Montlieu(1), knight, about the high justice in Chierzac.In another document, it is mentioned that Hugues Raynaud is preceptor of Chierzac and Civrac, which seems to mean that Chierzac was already at the templar time attached to the preceptory of Civrac.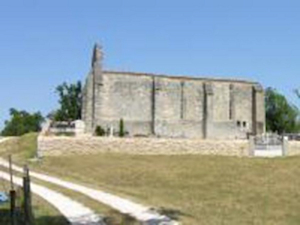 The pontifical investigation of 1373 mentions that Chierzac was attached to Civrac and attests to the presence of a chapel in Chierzac, probably of Templar origin.
Although the investigation does not expressly stipulate it, Chierzac undoubtedly suffered the same consequences due to the war and the plague as the other preceptories of the Order of the Hospital of Saintonge.
The reports of later Prior visits, mention that in 1479, Chierzac and Civrac became dependencies of the Preceptory of Epeaux, that in 1565, the chapel was in ruins, but that in 1686, the priest of Bédenac came there to do Mass on one Sunday out of three.
The Chapel of Chierzac is still visible nowadays. It stands at a place called "Linière", a little away from the village of Chierzac.The architectural style is typical of the religious establishments of the region: thick walls, powerful buttresses, a single nave with three bays, the third forming the choir, ending with a flat wall in which opens a large bay in broken arch.
Notes :
(1)The seigneury of Montlieu, in the current town of Montlieu-la-Garde, is mentioned in documents from the end of the 11th century. According to the cartulary of the Abbey of Saint-Etienne de Baignes, its first known lord is a certain Guillaume, lord of Montlieu between 1089 and 1098.
---
Bibliography
"Les Commanderies des Templiers et des Hospitaliers de Saint-Jean de Jérusalem en Saintonge et en Aunis"


Anne-Marie Legras; Editions du Centre National de Recherche Scientifique 1983

"Les Templiers dans le Sud-Ouest"


Jacques Dubourg; Editions Sud Ouest 2001