The preceptory of Saussay
Translation : Andrew Zolnai
No pictures available
France, department of Essonne (91), around 20 km north-east of Etampes and around 25 km west of Melun, commune of Ballancourt
Around the end of the 1150s, probably around 1158 or 1159, Thierry Galeran(1), Lord of Ferté-Alais decided to enter the Order of the Temple. When he was admitted, he wanted to donate the estates he owned at the Saussay, but which he had previously donated to the Abbey of Morigny.
In 1159, Landry, Abbot of Morigny(2), agreed to give back to the Order of the Temple the entire village of Saussay and the lands that depended on it for an annual rent of 10 livres to be taken from the income of the preceptory of Chalou.
Cette donation avec le transfert de propriété de l'abbaye vers l'Ordre du Temple sera approuvée par le pape Alexandre III en décembre 1159. Ce sera également confirmé par le roi Louis VII en 1164.
This donation, with the transfer of ownership of the abbey to the Order of the Temple, will be approved by Pope Alexander III in December 1159. This will also be confirmed by King Louis VII in 1164.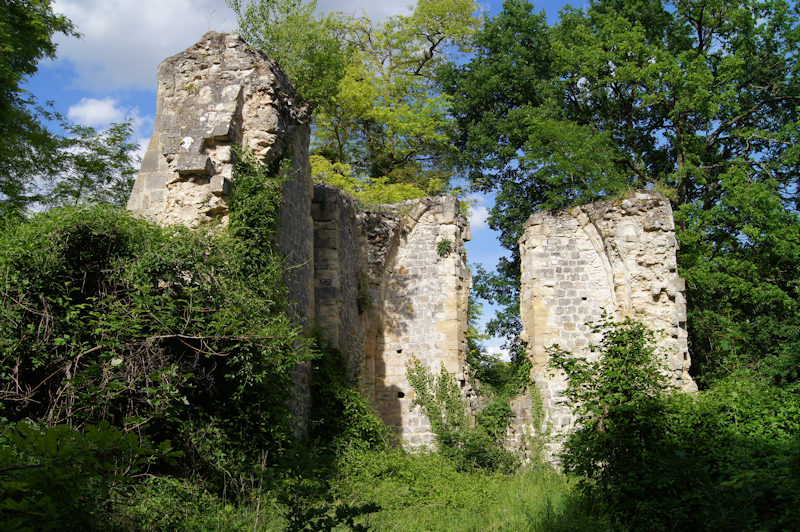 Located along the way from Ballancourt to La Ferté, the preceptory consisted of a house with a chapel dedicated to Saint Blaise and a barn. The whole estate included 120 arpents(3) of land, various fees and taxes, and also several mills located along the Essonne River.
In the years following the creation of the preceptory, its incomes will increase substantially. On the one hand, when a certain Hugues d'Essonne and his son Eudes abandoned a censive that they possessed near the mills along the river and on the other hand, when a certain Regnaut Bacheler yields to them a fief which he also possessed over these mills.
In 1356, when the Hospitallers erected Le Saussay as a main preceptory, they added the house of the temple of Auvernaux, and in 1385, the house of the Temple of Baudelu.
Notes :
(1)He is also called Thierry de la Ferté. He was the son of Robert Galeran and a certain Emmeline. We do not know exactly his date of birth, but in 1132, we find him among the relatives of the King of France Louis VI. Later, he moved to the service of King Louis VII and became one of his main advisers. Having become relatively rich because of his duties at the royal court, he was one of the principal benefactors of the Abbey of Morigny near Etampes. In 1162, when entering the Order of the Temple, he shared a big part of his domains between various religious orders : Templars, Hospitallers, Cistercians, ...
(2)The abbey of Sainte-Trinité de Morigny is a former Benedictine abbey of Gâtinais, founded at the end of the 11th century.
(3)One arpent was more or less 50 ares depending on the region.
---
Bibliography
"Les commanderies du Grand Prieuré de France"(lien sur archive.org - volume 1 - lien sur archive.org - volume 2)


Eugène Mannier, 1872