Crusader Castles of the Teutonic Knights
Tome 2 : The stone castles of Latvia and Estonia 1185-1560
(Osprey Publishing, 2003)
Auteur(s) : Stephen Turnbull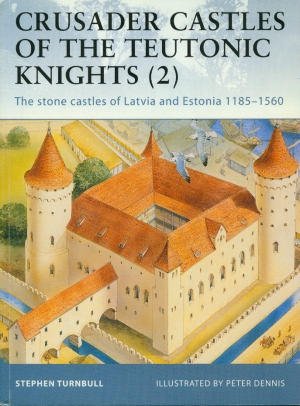 Sommaire des pages sur ce thème :
la présentation du livre (page actuelle)
Description :
The original forced conversion of pagan Livonia, what is now the Baltic states of Latvia and Estonia, was carried out by a military order known as the Brethren of the Sword.
In 1236 this order was incorporated into the Teutonic Knights following a catastrophic military defeat.
The knights had always consolidated their conquests through networks of castles and fortified places, and the Livonian Chapter of the Teutonic Order built castles of stone.
This title covers the developmental and operational history of these fortresses over the length of the Middle Ages.
It details how the Baltic fortifications of the Teutonic Knights evolved to reflect the changing nature of siege warfare and the increasing dominance of gunpowder in warfare.
L'auteur :
Stephen Turnbull is recognised as one of the world's foremost military historians of the medieval and early modern periods. He first rose to prominence as a result of his book published in 1977, The Samurai: A Military History.
Since then he has achieved equal fame in writing about European military subjects and has had over 30 books published.
Si vous désirez acquérir ce livre via notre partenaire Amazon.fr, suivez ce lien
Pour revenir à la liste des livres