Knight Templar 1120-1312
(Osprey Publishing, 2004)
Auteur(s) : Helen Nicholson & Wayne Reynolds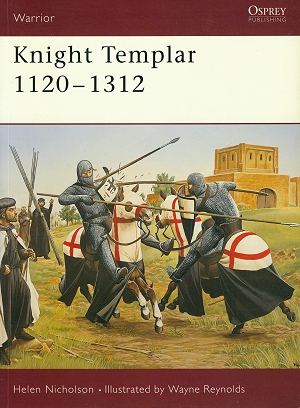 Sommaire des pages sur ce thème :
la présentation du livre (page actuelle)
Description :
The order of the Temple was a religious military organisation that was set up to protect pilgrims and settlers in the Holy Land. The Templars believed they were fighting on God's behalf and developed a fearsome reputation among the neighbouring Muslim rulers. This book examines the men and their motivations for joining the order, focusing on those who fought in the Holy Land. Based on contemporary sources it provides an effective insight into the daily lives of the warriors, from their admission ceremony to their training, organisation in the field, and how they fought in battle.
Les auteurs :
HELEN NICHOLSON is Reader in History at Cardiff University. She has written extensively on the history of the military orders, the crusades in general and the Templars in particular. Her best-known publications include: The Knights Templar: A New History (Sutton Publishing, 2001) and Templars, Hospitallers and Teutonic Knights: Images of the Military Orders 1128-1291 (Leicester University Press, 1993).
WAYNE REYNOLDS was born in Leeds, UK, and attended art college in Middlesborough. He has worked as a professional artist since 19ai, and has created material for many gaming companies, working on figures, landscapes and interiors, as well as providing core characterisation. He is best known for his work on titles such as 2000AD, Slaine, and Judge Dredd. Wayne is aiso a keen modeller and historical re-enactor.
Si vous désirez acheter ce livre avec notre partenaire amazon.fr, suivez ce lien.
Pour revenir à la liste des livres