Tannenberg 1410
Disaster for the Teutonic Knights
(Osprey Publishing, 2003)
Auteur(s) : Stephen Turnbull & Richard Hook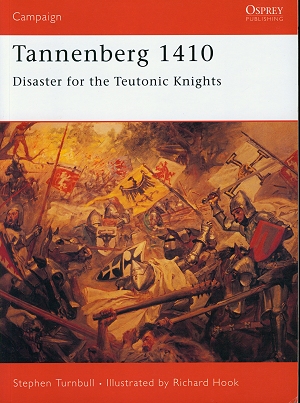 Sommaire des pages sur ce thème :
la présentation du livre (page actuelle)
Description :
By 1400 the long running conflict between the Order of Teutonic Knights and Poland and Lithuania was coming to a head, partly as a result of the Order's meddling in the internal politics of its neighbours.
In June 1410, King Wladislaw Jagiello of Poland invaded the Order's territory with a powerful allied army including all the enemies of the Teutonic Knights - Poles, Lithuanians, Russians, Bohemians, Hungarians, Tartars and Cossacks.
This book recounts how, when the armies clashed on the wooded, rolling hills near the small village of Tannenberg, the Teutonic Knights suffered a disastrous defeat from which their Order never recovered.
Les auteurs :
STEPHEN TURNBULL is recognised as one of the world's foremost military historians of the medieval and early modern periods. He first rose to prominence as a result of his 1977 book, The Samurai: A Military History. Since then he has achieved an equal fame in writing about European military subjects and has had 30 books published. He has always tried to concentrate on the less familiar areas of military history, in particular such topics as Korea, Eastern Europe, the Baltic states and the Teutonic Knights.
RICHARD HOOK was born in 1938 and trained at Reigate College of Art. After national service with 1st Bn, Queen's Royal Regiment, he became art editor of the much-praised magazine Finding Out during the 1960s. He has worked as a freelance illustrator ever since, earning an international reputation particularly for his deep knowledge of Native American material culture; and has illustrated more than 50 Osprey titles. Richard is married and lives in Sussex; his three children Adam, Jason, and Christa are all professionally active in various artistic disciplines.
Si vous désirez acheter ce livre avec notre partenaire amazon.fr, suivez ce lien.
Pour revenir à la liste des livres