The Templar Castle of Tomar
(ELO Publicitade, Artes Graficas L. - 1994)
Auteur(s) : Luis Maria Pedrosa dos Santos Graça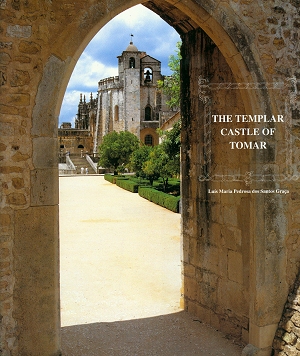 Sommaire des pages sur ce thème :
la présentation du livre (page actuelle)
Description :
The TEMPLARS, Order created in 1118 to protect pilgrims on their way to the Holy Land.
Later, when the Christians had regained control of these places, in the days of count Henrique of Portugal and his wife Teresa, they held a defensive line along the River Tagus, protecting the lands between Coimbra and Leiria.
They founded churches in Ega, Pombal and Redinha, and built castles in Pombal, Tomar and Almourol.
In 1319 the Templar properties passed to the Order of Christ, which was founded by King Dinis in the wake of the papal command which suppressed the Templars.
Founded shortly after the firts crusade (1096-1099), the Order of the KNIGHTS HOSPITALLERS did both military and hospital service in the context of the same overarching design of liberating the Holy Lands, their sphere of operations was the Upper Alentejo region, and theirs were the castles of Belver and Crato. They were later known as the Order of Malta.
The Order of CALATRAVA was founded in 1158 by Raimundo de Pitero and was granted the town of Avia by Afonso II in 1211. It too did military service in the lands of the Alentejo. Created in 1170 by Fernando II, King of Leon, the Order of SANTIAGO also served in Portugal, where it provided support for the royal positions established south of the Tagus by the castles of Almada, Palmela, Alcácer do Sal. the lands around such places as Sesimbra, Mértola, Aismonte and Tavira were its domain.
With the conquest of the Algarve in 1250 the military orders completed their task in Portugal. Their efforts redirected towards other duties, they remained, however, until the introduction of Liberalism (1834).
Si vous désirez acheter ce livre avec notre partenaire amazon.fr, suivez ce lien.
Pour revenir à la liste des livres