Teutonic Knight 1190-1561
(Osprey Publishing, 2007)
Auteur(s) : David Nicolle & Graham Turner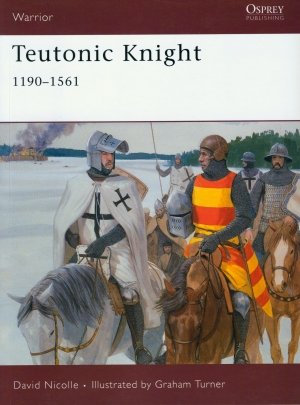 Sommaire des pages sur ce thème :
la présentation du livre (page actuelle)
Description :
The Military Order of Teutonic Knights was one of the most famous Crusading Orders, on a par with the Templars and the Hospitallers.
Having originally focused their attention on the preservation of the Crusader States in the Middle East, the loss of their Middle Eastern enclaves in the 13th century prompted the Knights to undertake campaigns in the Baltic and against pagan Prussians, Orthodox Russians and their Christian Polish neighbours.
Packed with detailed illustrations and photographs, this title examines their fascinating military and religious order, bringing to life the appearance, beliefs and battle experiences of the Teutonic Knights.
Les auteurs :
Born in 1944, DAVID NICOLLE worked in the BBC's Arabic service for a number of years before gaining an MA from the School of Oriental and African Studies, London, and a doctorate from Edinburgh University. He has written numerous books and articles on medieval and Islamic warfare, and has been a prolific author of Osprey titles for many years.
GRAHAM TURNER is a leading historical artist, specializing in the medieval period. He has illustrated numerous titles for Osprey, covering a wide variety of subjects from the dress of the 10th-century armies of the Caliphates, through the action of bloody medieval battles, to the daily life of the British Redcoat of the late 18th century. The son of the illustrator Michael Turner, Graham lives and works in Buckinghamshire, UK.
Si vous désirez acheter ce livre avec notre partenaire amazon.fr, suivez ce lien.
Pour revenir à la liste des livres